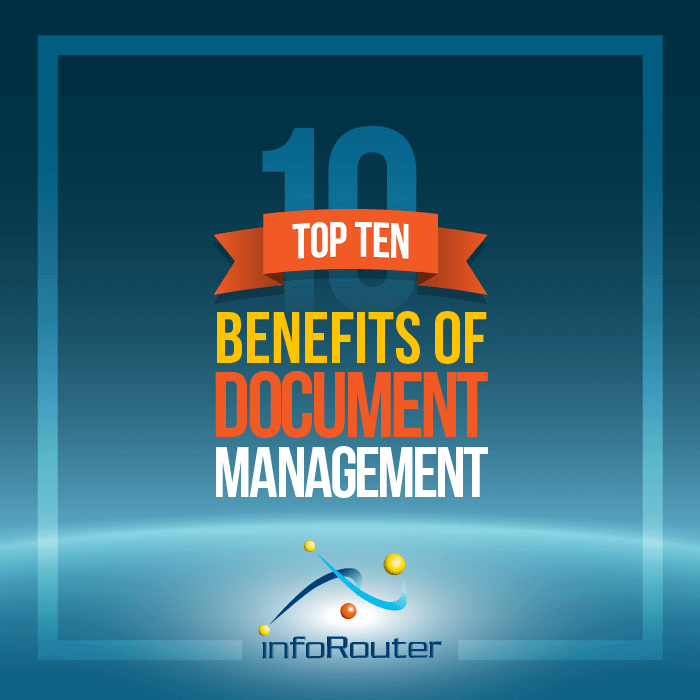 Easy access to documents
Improved collaboration among authors
Increased productivity
Reduce paper waste
Reduced errors and omissions. Better content quality.
Cost reduction
Centrally managed document storage
Powerful yet flexible security
Regulatory Compliance
Enhanced auditing and tracking capabilities
Benefits of document management systems go far beyond the dream of a paperless-office. There are many advantages to implementing a rock-solid EDMS that can provide real value and an amazing return on your investment.
An EDMS like infoRouter can accomplish the following:
Reduce the time and effort wasted in locating documents,
Increase productivity in handling documents quickly and correctly,
Reduce the chances of generating similar documents on the same topic, and
Reduce errors in classifying, saving and retrieving documents.
1 - Enjoy easy access to documents at the office or on the go
Enjoy secure access to critical business documents from anywhere in the world with infoRouter. Integrated full-text indexing and powerful advanced search features make it simple to locate exactly the document that you need. That means no more wasting time trying to find a document or recreating content that already exists.
If you are on the go, all you need is a web browser to connect to all your business-critical documents. That simple!
2 - Benefit from improved collaboration. Share corporate knowledge and intellectual capital
infoRouter makes sharing information easier than ever. It immediately and automatically informs your users, customers and partners when existing documents are changed, or new content is created.
An EDMS like infoRouter offers a vast number of features that are well beyond those offered by traditional EDMS offerings. Read more about Collaboration Management
3 - Increase your productivity
Being able to quickly route documents to the right people in your organization to get their approval or feedback is vital in modern businesses. Powerful workflows can be created within minutes to route documents to all the right parties. Being able to automate painfully manual tasks is indispensable in today's competitive marketplace.
Emailing the wrong version of documents to customers and vendors, or making business decisions based on old versions are just two examples of how frustrating and challenging document handling can be.
Inefficient handling of paper documents, coupled with the lack of tools to handle digital documents, can become very costly for your organization. Boost your confidence and bottom-line by implementing an EDMS solution.
4 - Reduce paper for higher productivity
Replacing paper documents with digital documents can offer a serious advantage by saving money on office space. But of course that's not all…
The easy access to digital documents and the higher productivity that follows must also be mentioned since their value far surpasses any advantage that can be attributed to paper documents.
Being able to
audit and track changes,
secure digital documents,
share digital documents with ease,
quickly identify correct versions of documents and
automatically retain vital documents while disposing unneeded or expired documents
are just a few of the benefits provided by a top-notch paperless system like infoRouter.
5 - Reduce errors and omissions through templates. Increase content quality.
Errors and omissions can lead to embarrassing and costly mistakes. Use document templates to reduce such incidents and save your reputation.
infoRouter ensures the highest content quality by allowing authors to concentrate of content instead of wasting time on formatting. The form templates built into infoRouter makes sure that documents are created according to your corporate standards, with no errors.
Learn more about this topic by visiting Forms Management.
6 - Reduce Cost – Save Money
Research indicates that the average employee wastes around 15%-30% of their time searching for documents.
Recreating documents that are never found takes even more than the wasted time searching for them.
Time is money. Eliminate those wasted hours and save your cash with a paperless solution. Learn more about Return on investment for EDMS
The clear advantages of digital document handling translate into serious time and money savings, and especially so when compared to the maddening challenge of managing paper documents the old-fashioned way.
To better understand why Document Management Systems are important and how they can save your business, read Why is Document Management Important
7 - Protect your valuable digital assets in centrally managed document storage
Keeping vital documents in a single central location is important for many reasons. By centralizing your documents, you can make sure backups are the rule, not the exception. "Centralizing" means your critical business information is not floating around in unsecured laptops but resting secure in a centralized and airtight repository. It also means your most important documents are readily available and they can be securely retrieved whenever you need them. Sleep well every night knowing that your vital business documents are safe and secure.
8 - Guard your documents with military-grade security
All the security in the world would not matter if your most critical documents are spread across hundreds or thousands of laptops, PCs, and network drives. infoRouter's powerful security features restrict access only to those who are authorized. Plus, thanks to its auditing capability, it lets you record who viewed which document, and modified what.
9 - Regulatory Compliance with governmental agencies and industry regulations
infoRouter allows organizations to create and manage a set of uniform models for retention, security, classification, search, retrieval and automatic notification and alerts for changing content. The benefits of such a system quickly become more obvious in the ever changing landscape of business where non-compliance may mean costly fines, sanctions, litigation and personal liability for corporate officers.
Do you know if you are in compliance with regulatory agencies and industry regulations regarding document capturing and retention?
10 - Enhanced auditing and tracking of documents, tasks and document based events.
infoRouter maintains an extensive audit trail of all activity. Folder creations, folder deletions, document creations/views/edits/deletes and much more are all tracked automatically. You can automate easily overlooked tasks such as reviewing documents for relevance and accuracy. Being able to automatically remind users to check documents and procedures is important to maintain your competitive edge.
Save Time and Money and Sleep Well with World-Class Document Management solutions by infoRouter.