The image below describes the basic content generation and the automatic email notifications generated by the infoRouter document management software to authenticated subscribers.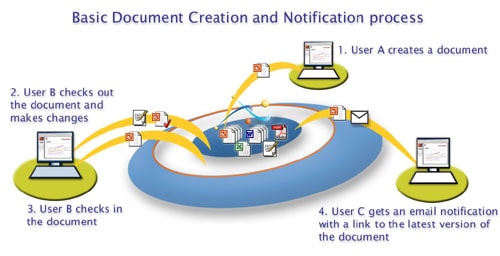 How does it work?
In step 1, user A creates a document.
All subscribed users get an email notification informing them that a document has been created.
In step 2, user B checks out the document to make changes.
In step 3, user B checks in the document to create a new version of this document.
In step 4, user C is instantly notified by infoRouter informing of the new version of this document.
This way, no one has to rely on anyone to notify others that changes have occured. infoRouter takes care of this automatically. This is accomplished through the infoRouter subscription mechanism.
Users can subscribe to infoRouter folders and documents for specific events. This eliminates needless notifications and heavy email traffic. The specific events that a user can subscribe to are one or more of the following:
New Documents
Document Reads
Document Updates (New versions)
Document Property Updates
Document Approvals (Reviews)
Document Rejections (Reviews)
Document Comments
Document Moves
Document Deletes
Document Check Outs
Document Check Ins
This new feature allows users to subscribe to only specific events.
Click here to go back to Case Studies, Solutions and Usage Scenarios