Custom Document Properties (Meta Data) in infoRouter provides a very powerful searching and classification mechanism.
Any meta data can be defined and assigned to documents and folders within infoRouter.
Searching and classifying documents using meta data that is specific to your company's needs will greatly improve your search performance, which in return will have a positive effect on your productivity.
How is document tagging done?
Custom document properties are imported along with the invoices into infoRouter.
In the illustration above, invoices imported into infoRouter bring with them their custom properties. This allows, users to search for these invoices by not only their contents but also by amount ranges.
Example: find all invoices where the invoice amount is greater than $1,000.00.
Custom meta data assigned to documents serve to extend the capabilities of the infoRouter Document Management System. With this feature, you can assign custom meta data to documents produced by any desktop application even electronic documents such as images and video that have no indexable content.
The use of custom document properties in infoRouter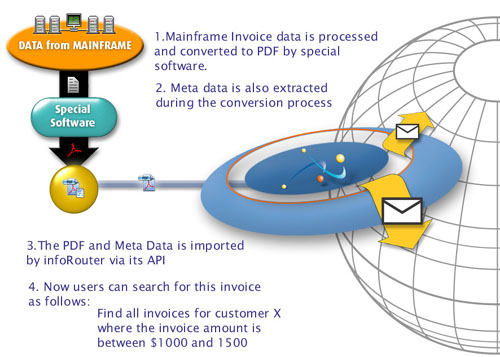 Click here to go back to Solutions and Usage Scenarios